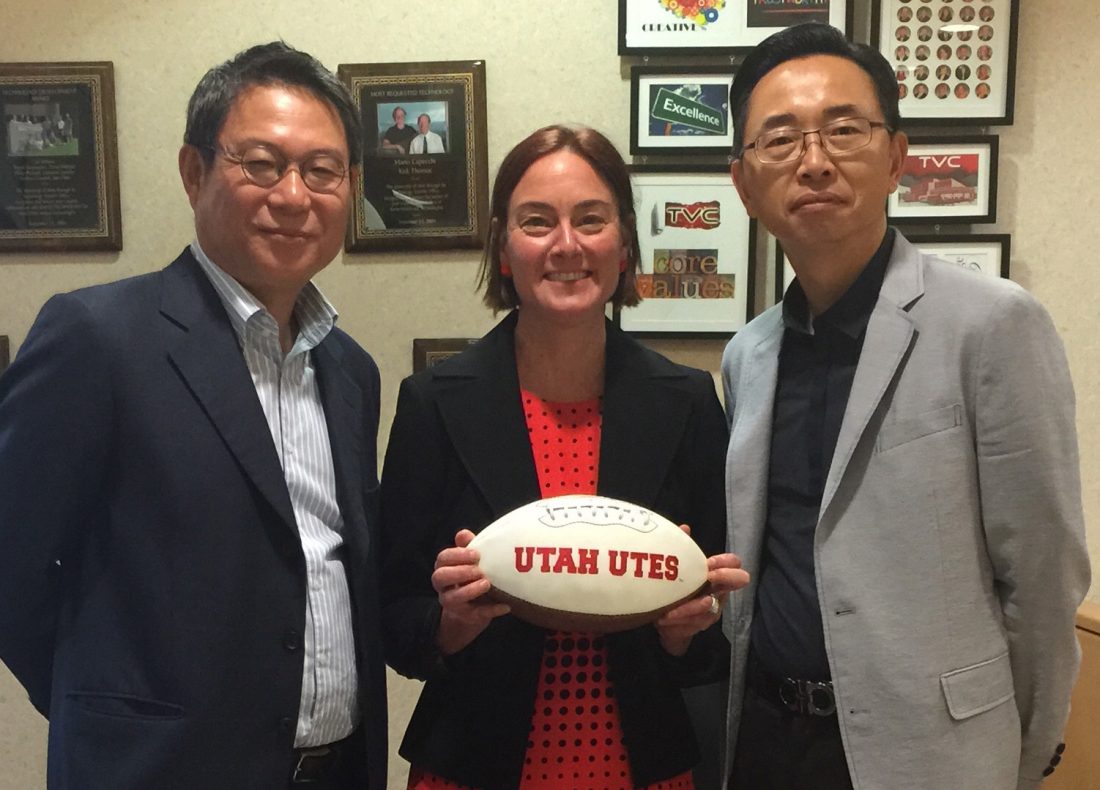 LSK BioPharma and Huntsman Cancer Institute Announce an Exclusive License Agreement for HCI-1401, a BTK inhibitor for treatment of B-cell malignancies and other diseases
Salt Lake City– LSK BioPharma (LSKB) and the University of Utah's Huntsman Cancer Institute (HCI) today announced an exclusive license agreement for LSKB to develop and commercialize HCI-1401, an orally bioavailable, small molecule, irreversible inhibitor of Bruton's tyrosine kinase (BTK).
"BTK inhibitors are an exciting class of drugs not only because of their proven efficacy in B-cell cancers but because of their potential in other disease areas as well. With recent clinical findings highlighting the emergence of resistance mutations against the BTK inhibitor ibrutinib, there is an acute need for new compounds that maintain their activity in cancers that acquire these mutations," said Sunil Sharma, M.D., HCI's Senior Director of Clinical Research and Division Chief of Oncology.
HCI-1401 was developed by HCI's Center for Investigational Therapeutics and was selectively designed to have excellent oral bioavailability while inhibiting the BTK enzyme, a mediator of several pro-survival mechanisms in B-cell cancers. In addition to showing high potency inhibiting normal BTK, HCI-1401 was designed to maintain its activity against the commonly mutated form of BTK that gives resistance to other BTK inhibitors such as ibrutinib.
Preclinical in vitro data shows that HCI-1401 is several times more potent in inhibiting BTK than other competitive inhibitors. LSKB and HCI expect HCI-1401 to enter into clinical trials next year and to have clinical utility in fighting certain B-cell mediated malignancies as well as in autoimmune and inflammatory diseases such as rheumatoid arthritis and systemic lupus erythematosus.
"Huntsman Cancer Institute has made significant progress in the research and development of HCI-1401, and we look forward to bringing this molecule closer to application in cancer and autoimmune disorders," said LSKB President, Dr. Sung Chul Kim.
Under the terms of the agreement, HCI awarded LSKB global rights in all therapeutic indications of HCI-1401. Financial terms of the deal have not been disclosed.
About LSK BioPharma
LSKB is a privately-held biopharmaceutical company based in Salt Lake City, Utah. The Company specializes in the early clinical development of promising therapies for unmet medical needs in cancer. LSKB is also conducting clinical trials for apatinib, a selective, small molecule angiogenesis inhibitor. LSKB can be found on the web at www.lskbiopharma.com.
About Huntsman Cancer Institute at the University of Utah
Huntsman Cancer Institute (HCI) is one of the world's top academic research and cancer treatment centers. HCI manages the Utah Population Database – the largest genetic database in the world, with more than 16 million records linked to genealogies, health records, and vital statistics. Using this data, HCI researchers have identified cancer-causing genes, including the genes responsible for melanoma, colon and breast cancer, and paraganglioma. HCI is a member of the National Comprehensive Cancer Network (a 26-member alliance of the world's leading cancer centers) and is a National Cancer Institute-Designated Comprehensive Cancer Center. HCI treats patients with all forms of cancer and operates several high-risk clinics that focus on melanoma and breast, colon, and pancreas cancers. The HCI Cancer Learning Center for patient and public education contains one of the nation's largest collections of cancer-related publications. The institute is named after Jon M. Huntsman, Sr., a Utah philanthropist, industrialist, and cancer survivor.
Contact
Angie Price
LSK BioPharma
8 E Broadway, Suite 611
Salt Lake City, UT 84111
Email: angieprice@lskbiopharma.com
Photo – After signing BTK License Agreement, LSKB's Dr. Soo Whan Choi and Dr. Sung Chul Kim with Dr. Beth Drees, the Director of Business and Technology Development, Technology Venture Commercialization at the University of Utah.